Andy Griffith probably best known for his role as sheriff in the small town of Mayberry where he acted along side other great actors such as Don Knotts, Jim Nabors, and Ron Howard, has died today.
I still haven't found out from what, but I have read that he has been ill for some time now. This show was very much a part of my youth, I grew up watching the lessons Andy often taught Opie, laughing hysterically at the insanity which was Barney, and Golly, I miss that show, but it probably still airs on cable somewhere. Andy Griffith said the reason the show was so successful was because the theme of it was Love. Quote: 'The people of Mayberry loved each other and so did the actors'. I can't think of anything better for a show to be based on, and it's a rare thing. I hope the younger generations still have the opportunity to watch this show.
Later on in life I watched him on Matlock as well as his appearances in several other shows. I've always liked watching him act, and it seemed as if he always had a certain twinkle in his eye. Perhaps one that comes from happiness and a life fulfilled.
I read that he died peacefully, and I know that he was a Christian of strong faith and was prepared to be called up to the Lord. I've never heard his music, but he made a gospel album titled, "I Love to Tell the Story" which got him a Grammy and he was inducted into the Christian Music Hall of Fame. I'll have to check that album out.
I think Andy Griffith was a man loved by millions and I know that he'll be truly missed. My condolences to his family, friends, and loved ones. May he rest in peace.
Everyone knows the Mayberry theme song, but have you heard the words to it?
http://www.youtube.com/watch?v=6PVUit1-0Ck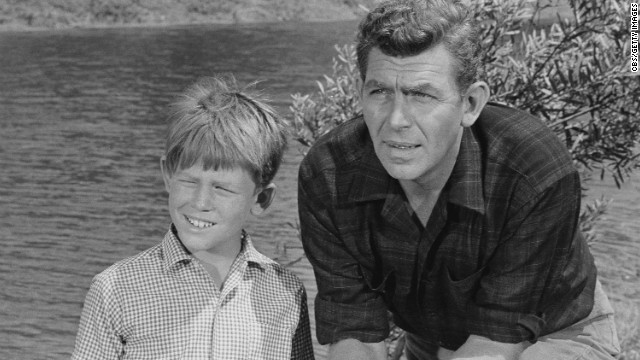 Andy Griffith and Ron Howard. Andy Griffith 1926-2012
Read more on the Life, Death, and Accomplishments of the talented Andy Griffith here:
http://www.cnn.com/2012/07/03/us/north-carolina-griffith-burial/index.html
RIP Ernest Borgnine 1917-2012
Didn't have time to write anything about Ernest at the time of his death, but wanted to get this in here. He was such a wonderful actor. I'll have more on him, soon.